If you can think it, you can do it
"I haven't found anything the software can't do."
- Leodis Grimes, Foster's Wine Estates
HMI, SCADA & MES Software
Web-Based Access
to Your Data Anywhere
Unlimited Usage for
One Affordable Price
Powered by SQL Databases
Cross Platform
OPC-UA Compatible
Video: Ignition in 2 Minutes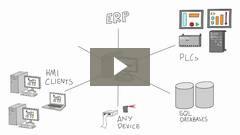 Ignition delivers unlimited web-based monitoring and control for your entire facility. You can use it to create any size industrial automated system for HMIs, SCADA or MES applications.
Watch the video >
Featured Videos
See All
Live Product Demonstration
Schedule a live product demonstration and see how easy it is to set up a project and get going.
Inductive Automation Corporate
United States
(800) 266-7798
(916) 456-1045
Need help? Call us Monday - Friday 6am - 5pm PST
Free Support
Have a question? Choose from below: